Here it is, the middle of october and Nick is into his 3rd month of being in the military. Where has the time gone. He sent me the pic you see, of him and his CQ group pulling duty at 1am. I have been told how happy he looks. And he does!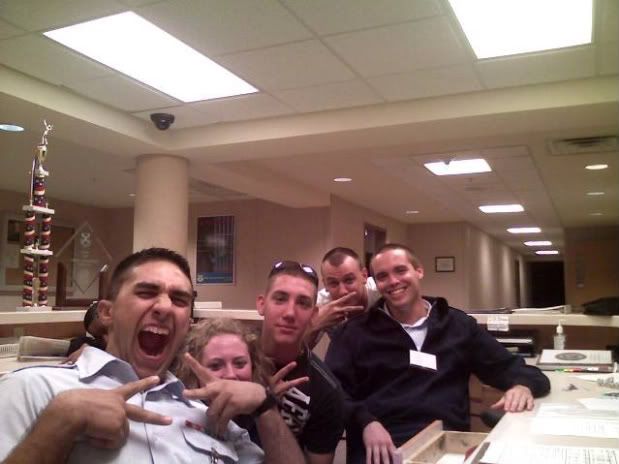 I do miss him alot, but I am always happy to hear about the new and exciting things that are going on with him. My hubby and I were watching a special on HBO a couple of nights ago, about Section 60 at Arlington National Cemetary. You see all soldiers killed in Iraq and Afghanastain are eligible for burial there. Not to bring this blog down, but we both looked at each other and said, that if somthing happened to Nick, it would be hard to have him so far away from us.
It was a somber moment, and I guess we have never thought of it that way. My heart just went out to the moms they were showing on the show. I hope that we are never in that position.
Anyway, the time is just going by so fast, and we are now looking forward to christmas, when he comes home to visit. Hopefully those plans wont change. The two little ones are doing most excellent, and we are getting ready for halloween.
thats all for now, I needed to update, or Susan was going to give me 50 lashings... :)
until next time